Sue Grafton's Alphabet Series



When Laurence Fife was murdered, few mourned his passing. A prominent divorce attorney with a reputation for single-minded ruthlessness on behalf of his clients, Fife was also rumored to be a dedicated philanderer.

Read more...



Beverly Danziger looked like an expensive, carefully wrapped package from a good but conservative shop. Only her compulsive chatter hinted at the nervousness beneath her cool surface. It was a nervousness out of all proportion to the problem she placed before Kinsey Millhone.

Read more...



He was young—maybe twenty or so—and he must once have been a good-looking kid. Kinsey could see that. But now his body was covered in scars, his face half-collapsed. It saddened Kinsey and made her curious.

Read more...



He called himself Alvin Limardo, and the job he had for Kinsey was cut-and-dried: locate a kid who'd done him a favor and pass on a check for $25,000. It was only later, after he'd stiffed her for her retainer, that Kinsey found out his name was Daggett. John Daggett.

Read more...



It was the silly season and a Monday at that, and Kinsey Millhone was bogged down in a preliminary report on a fire claim. Something was nagging at her, but she couldn't pin it. The last thing she needed in the morning mail was a letter from her bank recording an erroneous $5,000 deposit in her account. Kinsey had never believed in Santa Claus and she wasn't about to change her mind now.

Read more...



Floral Beach wasn't much of a town: six streets long and three deep, its only notable feature a strip of sand fronting the Pacific. It was on that sandy beach seventeen years ago that the strangled body of Jean Timberlake had been found.

Read more...



Kinsey is run off the road by a red pickup truck, wrecking her '68 Volkswagen and landing herself in the hospital. Maybe a bodyguard is a good idea after all...Enter Robert Dietz, a burnt-out detective, "late forties, five ten, maybe 170, [who arrives in] jeans, cowboy boots, a tweed sport coat with a blue toothbrush protruding from the breast pocket like a ballpoint pen."

Read more...



His name was Parnell Perkins, and until shortly after midnight, he'd been a claims adjustor for California Fidelity. Then someone came along and put paid to that line of work. And to any other. Parnell Perkins had been shot at close range and left for dead in the parking lot outside California Fidelity's offices.

Read more...



Readers of Sue Grafton's fiction know she never writes the same book twice, and "I" is for Innocent is no exception. Her most intricately plotted novel to date, it is layered in enough complexity to baffle even the cleverest among us.

Read more...



"J" is for Jaffe: Wendell Jaffe, dead these past five years. Or so it seemed until his former insurance agent spotted him in the bar of a dusty little resort halfway between Cabo San Lucas and La Paz.

Read more...



Lorna Kepler was beautiful and willful, a loner who couldn't resist flirting with danger. Maybe that's what killed her.

Read more...



Kinsey's skills are about to be sorely tested. She is about to meet her duplicitious match in a couple of world-class prevaricators who quite literally take her for the ride of her life.

Read more...



"M" is for money. Lots of it. "M" is for Malek Construction, the $40 million company that grew out of modest soil to become one of the big three in California construction, one of the few still in family hands.

Read more...



Kinsey Millhone should have done something else—she should have turned the car in the direction of home. Instead, she was about to put herself in the gravest jeopardy of her career.

Read more...



The call comes on a Monday morning from a guy who scavenges defaulted storage units at auction. The weekend before, he'd bought a stack of cardboard boxes. In one, there was a collection of childhood memorabilia with Kinsey's name all over it. For thirty bucks, he was offering Kinsey the lot.

Read more...



Dr. Dowan Purcell had been missing for nine weeks when Kinsey got a call asking her to take on the case. A specialist in geriatric medicine, Purcell was a prominent member of the Santa Teresa medical community, and the police had done a thorough job. Purcell had no known enemies and seemed contented with his life.

Read more...



She was a "Jane Doe," an unidentified white female whose decomposed body was discovered near a quarry off California's Highway 1. The case fell to the Santa Teresa County Sheriff's Department, but the detectives had little to go on.

Read more...



Reba Lafferty was a daughter of privilege, the only child of an adoring father. Nord Lafferty was already in his fifties when Reba was born, and he could deny her nothing. Over the years, he quietly settled her many scrapes with the law, but he wasn't there for her when she was convicted of embezzlement and sent to the California Institute for Women. Now, at thirty-two, she is about to be paroled, having served twenty-two months of a four-year sentence.

Read more...



In "S" is for Silence, Kinsey Millhone's nineteenth excursion into the world of suspense and misadventure, "S" is for surprises as Sue Grafton takes a whole new approach to telling the tale. And S is for superb: Kinsey and Grafton at their best.

Read more...



In what may be her most unsettling novel to date, Sue Grafton's "T" is for Trespass is also her most direct confrontation with the forces of evil. Beginning slowly with the day-to-day life of a private eye, Grafton suddenly shifts from the voice of Kinsey Millhone to that of Solana Rojas, introducing readers to a chilling sociopath.

Read more...



Calling "T is for Trespass "taut, terrifying, transfixing and terrific," USA Today went on to ask, "What does it take to write twenty novels about the same character and manage to create a fresh, genre-bending novel every time?" It's a question worth pondering. Through twenty excursions into the dark side of the human soul, Sue Grafton has never written the same book twice. And so it is with this, her twenty-first. Once again, she breaks genre formulas, giving us a twisting, complex, surprise-filled, and totally satisfying thriller.

Read more...



The new Kinsey Millhone novel from the #1 New York Times-bestselling author. "I know there are people who believe you should forgive and forget. For the record, I'd like to say I'm a big fan of forgiveness as long as I'm given the opportunity to get even first."

Read more...



Two dead men changed the course of my life that fall. One of them I knew and the other I'd never laid eyes on until I saw him in the morgue.

The first was a local PI of suspect reputation. He'd been gunned down near the beach at Santa Teresa. It looked like a robbery gone bad. The other was on the beach six weeks later. He'd been sleeping rough. Probably homeless. No identification. A slip of paper with Millhone's name and number was in his pants pocket. The coroner asked her to come to the morgue to see if she could ID him.

Two seemingly unrelated deaths, one a murder, the other apparently of natural causes.

Read more...



Of #1 New York Times-bestselling author Sue Grafton, NPR's Maureen Corrigan said, "Makes me wish there were more than 26 letters." With only two letters left, Grafton's many devoted readers will share that sentiment.

X: The number ten. An unknown quantity. A mistake. A cross. A kiss.
X: The shortest entry in Webster's Unabridged. Derived from Greek and Latin and commonly found in science, medicine, and religion. The most graphically dramatic letter. Notoriously tricky to pronounce: think xylophone.
X: The twenty-fourth letter in the English alphabet.

Read more...
Also available...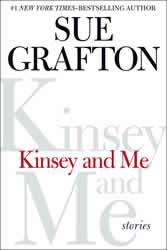 Kinsey and Me: Stories

In 1982, Sue Grafton introduced us to Kinsey Millhone. Thirty years later, Kinsey is an established international icon and Sue, a number-one bestselling author. To mark this anniversary year, Sue has given us stories that reveal Kinsey's origins and Sue's past.